Dialogue 2020 #2

Download PDF
David Coppedge Headlines Creation Weekend 2020
Published: September 19, 2020

Creation Science Association of Albert is delighted to present David Coppedge as the featured speaker for our Creation Weekend 2020. Due to the COVID 19 restrictions, Creation Weekend will be a one evening online event this year.  David Coppedge was exceptionally well received with his presentations in Edmonton in 2012. Now in 2020, his return promises another tour de force with a presentation entitled Creation is Awe Inspiring! This event will take place on Friday evening, October 23, 2020 at 7:30 pm. To participate in this session, register at www.create.ab.ca/register.  Once you register you will receive a confirmation email, and closer to the event you will receive an email with further details. Read the rest of this entry »
---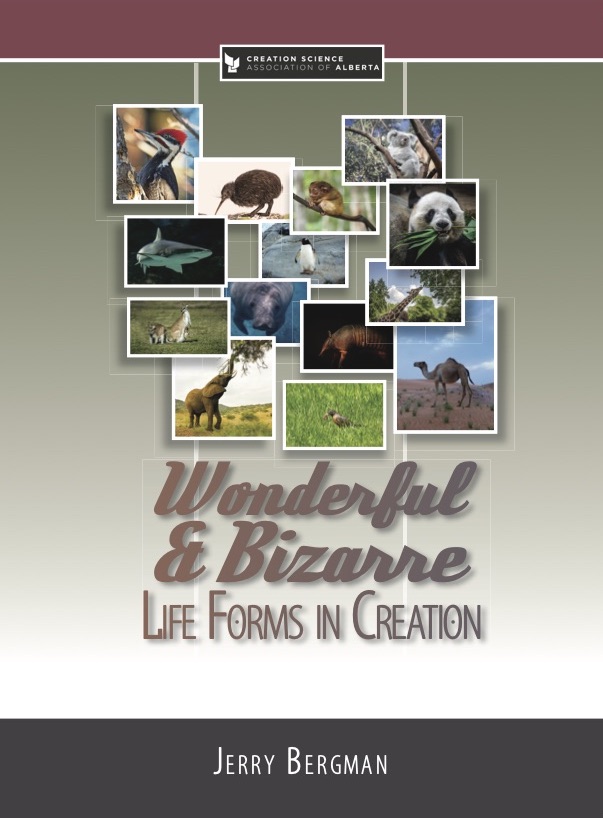 Wonderful New Book from Dr. Bergman
Published: September 19, 2020

Dr. Jerry Bergman, who needs no introduction to readers of Dialogue, is the author of a delightful new book for families and animal-lovers and all who enjoy fascinating details from nature. Readers of Dialogue, for more than fifteen years, have been blessed with little known insights into some well-known creatures. His new book Wonderful and Bizarre Life Forms and Creation is a collection of the "best of Bergman" from Dialogue plus a few completely new chapters. The twenty-three chapters present each creature with pictures and highlights. This is an attractive and well documented book in full colour, which will inspire much reflection and discussion. Many will want to buy several copies, one for personal use, and others for those special people in their lives! Read the rest of this entry »
Order Online
---
Book Review: Exploring the World of Astronomy
Published: September 19, 2020

I am 12 years old and I am interested in astronomy. Exploring the World of Astronomy by John Hudson Tiner is a well written book about astronomy from a Christian perspective. I learned through reading this book that it is well formatted, the information is easy to apply to the real world, and that many people will enjoy this book. Read the rest of this entry »
Order Online
---
How COVID Created Opportunities!
Published: September 19, 2020

The media are full of accounts of how people have used their unexpected "down time" at home during the COVID pandemic. What we chose, be it bread baking or house-cleaning or crafts or whatever, obviously reflected personal preference.  As far as I was concerned, this time was a golden opportunity to do some extra scientific reading. It all began with an article in Nature that promoted an ancestral relationship for red seaweeds with an organism that was the exact opposite of all the features in red seaweeds. Perhaps I lack imagination but I could not believe that this prestigious journal had indeed published such an argument. It seemed hilarious to me. Read the rest of this entry »
---
First Class Resources for FREE!
Published: September 19, 2020

One family, with one child in high school, one in junior high and one in elementary school, were going to start with just one video clip from Michael Behe. The idea was, like the thin edge of the wedge, to first catch their attention. But everyone was so intrigued, that they watched all five episodes in one sitting! Read the rest of this entry »
---
Something Special About Bumblebees
Published: September 19, 2020

An interesting article appeared recently in the journal Science that suggested that bumble bees have solved a problem that plant physiologists have been working on for one hundred years! It was in 1920 that plant physiologists Wightman W. Garner (1875-1956) and Harry A. Allard (1880-1963), while working with tobacco and flowering cosmos, discovered that the correct length of day is essential for the onset of flowering in these plants. They named the phenomenon "photoperiodism," and it is an extremely important control on the beginning of the flowering process in many plants. Read the rest of this entry »
---